Village at Mills Creek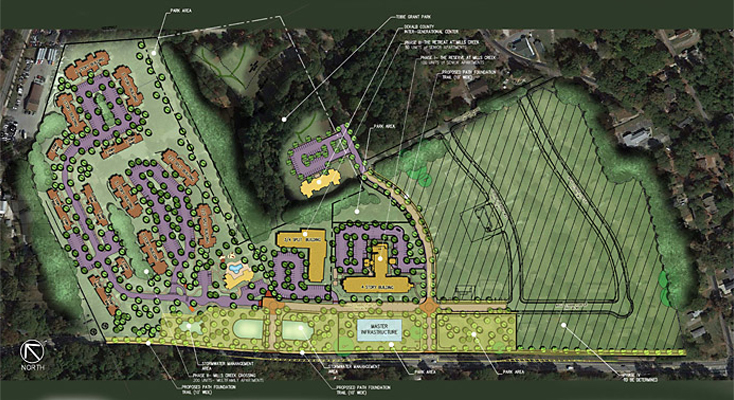 VILLAGE AT MILLS CREEK – Currently under development. Initial three multi-family communities completed in 2016-2017.
Village at Mills Creek is the redevelopment of Tobie Grant Manor, a 55-acre public housing project in the heart of DeKalb County's historic Scottdale community. The redevelopment, under HUD's new Rental Assistance Demonstration program, will not only transform the Tobie Grant property but will be a catalyst for transformation of the entire Scottdale as a master planned community. The redevelopment will blend a diverse range of neighborhoods in a mixed-income, mixed-tenure, multi-generational community and incorporate the best modern practices into its master plan. Village at Mills Creek will include:
Reserve at Mills Creek: 100 units of affordable seniors apartments (awarded 2014 tax credits by DCA, as "Tobie Grant Seniors I"), including RAD and Section 8 Voucher households.
Mills Creek Crossing: 200 units of mixed-income, family apartments including RAD (20%), Tax Credit (60%) and Market Rate (20%) households.
Retreat at Mills Creek: 80 rental units of affordable senior apartments include Project-Based Vouchers (PBV) reserved for households earning at or below 60 and 50 percent Area Median Income (AMI) households.
Mills Creek Estates: 116 owner-occupied, market rate, single family & townhomes.
Tobie Grant Park: An existing DeKalb County park in the center of the master plan, where the County will construct new recreation facilities and a new, multigenerational recreation center, as part of this redevelopment.
Village of Mills Creek Park: A new park to be built as part of Village of Mills Creek's master infrastructure. It will be owned by the County, as an extension of Tobie Grant Park and operated by the Village of Mills Creek Master Association.
Lush Urban Streetscapes Along All Public Streets: These will include six and eight foot sidewalks, street trees and pedestrian scale, lantern-style street lights and raised decorative crosswalks for traffic calming.
Sustainable Building Practices Utilized in All New Buildings: All buildings will be built to EarthCraft Communities or LEED standards.
Shared Storm Water Detention Facilities: New storm water mains and new detention ponds are being constructed, which will be shared by Master Plan components.
Public Transportation and Pedestrian Connections: Public streets and sidewalks will connect all components and parks within the Master Plan, and they will also connect to MARTA bus service at the community's front door, on North Decatur Road.
Extension of the Nearby PATH Multipurpose Trail to Tobie Grant and Village of Mills Creek Parks: The PATH is located 800' down North Decatur Road from Tobie Grant.